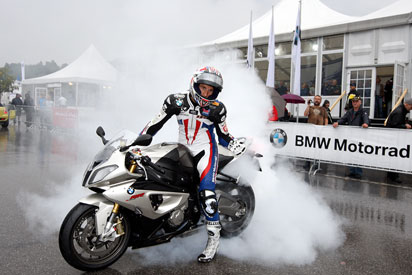 BMW Motorrad: perfect riding pleasure.
BMW Motorrad builds fascinating, dynamic motorcycles for every purpose. Whether a trip to the end of the world or a training session on the race track, whether an exclusive luxury touring motorcycle or a cool urban bike: every motorcyclist will find just the right machine here. But there's more to perfect riding fun than this: BMW Motorrad offers a comprehensive program going well beyond motorcycles, from highly functional and fashionable rider equipment to top-quality holiday and training trips all over the world.
BMW Motorrad has been developing innovative solutions since 1923. Whether in the field of design, engines, chassis, environmental responsibility or safety: BMW Motorrad occupies a leading position in all of them. Comprehensive service and a dense network of highly committed dealers guarantee carefree BMW motorcycling pleasure virtually everywhere in the world.

With our aspiration to constantly strive to produce individualised, innovative products which set standards in the long term, owners of BMW motorcycles can be sure of enjoying the perfect pleasure riding a BMW.